Best Keypad Door Lock: Definitive Guide
Smart locks are conquering our doors, but the pursuit for the best way to open the keyless door is still not over. Keypad lock is a type of smart lock which uses a PIN combination instead of keys to control access.
This is buyers guide explaining what best keypad lock is, understanding if it is a good option for you and best keypad door locks for your door. We looked at both traditional combination door locks and smart keypad door locks to give you a comprehensive review of available numerical pad door locks.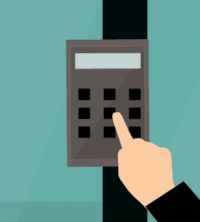 We tested a dozen keypad locks using it for at least a month on two households to find out the main things you need to know. We found that Schlage Connect is the best keypad lock for the majority of people. It offers highest ANSI Grade 1 certification, high-quality build and all smart features you need. It requires smart hub (like SmartThings) to work, and if that is not what you want, August Pro with the keypad is an alternative option. 
Let's get started
Hey guys, my name is Alex Brice and I am a smart home expert who has been using, reviewing and testing home automation products for over 10 years. 
I was always fascinated with locks and believe that smart lock will help to make our homes even safer, but at the same time more convenient. That is why we published a number of other articles on smart locks, including a review of keyless entry door locks, Z-wave door locks and Bluetooth door locks.
CHAPTER 4
What is the best keypad door lock for my door type
What is a Keypad lock?
The main feature of the keypad (or combination) door locks is the use of keypad as the primary way to unlock the doors.
 The advantage of numerical pad door locks as a practical alternative to old-fashioned keyed locks is that you can use a combination of digits (usually between 4 and 8) to open the door. This means added security as compared to using keys, you cannot physically copy a PIN code. Having no keys also means that your lock cannot be picked, although the majority of the keypad locks still allow to use a key as the backup solution.
Another advantage of keypad locks is the ability to give access to your friends and family by just passing a pin-code. You can also revoke it any time.
Even the best keypad door locks have disadvantages. The first one is reliability. As a more complicated device, a poorly built or installed lock can break and lock you out of the property. This is why selecting the best keypad lock for your door is important (our advice is below).
Another drawback is user acceptance. We all have family members that might not be as open to new technology and it might prevent you from buying a smart numerical padlock. Although the majority of the smart keypad locks actually make using the locks easier, make sure you spend time showing how the new device works.
Do you need a keypad door lock?
Compared to other smart locks, keypad door locks are ideal for combining the ease of use and practicality. Below are the main reasons why you might want to select keypad door lock:
You do not want to carry anything go open the door (so a key, smart card or fob won't work for you)

You do not trust auto-unlock function to open the door when you approach the door (although out top pick Bluetooth door lock

August pro

does it very well)

Fingerprint or other biometric door locks are not too reliable

The alternatives to keypad locks are smart locks that use other ways to open the locks. This might be using a fob,
Keypad locks also great at communal areas that are being used by many. Instead of giving them a key each, you can just hand a PIN. One word of caution is that remember to change PINs regularly.
If you are not convinced, you might want to look at our buyer's guide for keyless entry door locks for other alternatives.
How to chose best keypad door lock?
Security Grade: The security grade is important to understand how reliable the locks are. American National Standards Institute (ANSI) set the security standards for door locks that are very widely used. Grade 1 is the top available ranking and reserved for a commercial-use lock with an inch-long latch bolt that's able to withstand 10 strikes of 75 pounds and a million open/close cycles. A Grade 2 lock is also awarded to consumer-level locks, with a bolt that is five-eighths of an inch thick that can withstand 5 strikes of 75 pounds and 800,000 cycles.
Physical backup key: Many locks allow you to use a key as the backup option. Backup key makes sure that you will still make it into your hose even if the keypad of the lock brakes. At the same time having a key means that someone can pick your lock. This means that keyless door locks can be more secure, but lack backup options.
Installation ease: some numerical pad locks being very easy to use and ultimately saving you money so you do not need to hire a professional locksmith.
Auto-lock is one of the major security improvements that smart numerical door locks. It closes the door once a certain condition is met (you are at the specified distance from home and so on). This is hugely beneficial especially for households where some family members are known to be forgetful. As with many other smart features, you still advised not to over-rely on it and maybe using other means to ensure that the door is closed.
What is the best keypad lock for my door type?
In general, the keypad locks can be installed with any type of door and below are our recommendation for each type. Please note that we are providing two recommendations for each type of the lock – one is traditional and the second is a smart lock equivalent.
Traditional keypad door locks do not have built-in smart features and the pin-code opening based on a relatively simple mechanism.
Good for very busy and commercial venues with fewer concerns over security.

More reliable and easy to use, but at the same time not as flexible and do not give

Easy to install and maintain

Usually only one PIN at a time

No access controls (you cannot see who opened the door
Smart keypad door locks have other smart features like auto-unlock, auto-lock, integration with smart hubs, mobile application and sometimes integrated door sensor.
Can connect to your smart home hub

Can be controlled remotely

Flexible access control (you can remotely create, revoke and share pin codes)

More expensive

Might be less reliable if not installed properly

Need to change batteries regularly
Keypad deadbolt lock can replace traditional deadbolt lock adding a keypad to the most popular lock system in the US. Deadbolt is believed to be one of the most difficult locks to pick, but also easy to install as it is separate from the lever.
Pros
Great battery life
Highest Security rating
Z-wave plus certified
Very reliable
Cons
Manuals and support can be better
Not great for high humidity areas
Our top pick for the best keypad deadlock is Schlage Connect, which is one of the best z-wave door locks on the market for reliability and richness of the functionality. We selected it for outstanding value for money, the highest grade of physical security and a very good implementation of smart features.
Schlage connect is one of the very few smart locks that received Grade 1 ANSI/BHMA. This means that an independent body certifies that the lock survived over 800,000 lock/unlock cycles, two strikes of 60 foot-pounds, and also knobs have withstood 300 pound-feet of torque.
It also can be linked to your smart hub where you can open/close the lock remotely, get notifications and programme the codes.
No wear and tear on PIN touchscreen: Many users were worried that since you use the same pins over and over they can be seen on the touchscreen. In reality, it is not a concern due to good design and materials used by Schlage
For more expensive option, you might have a look at August Smart Lock Pro + Connect which add Bluetooth connectivity, door sensor and great service. The downside? Adding a numerical pad will mean that you will have to spend $100 more
For a traditional keypad deadbolt, we recommend Schlage BE365VCAM619 BE365V CAM 619 Camelot Keypad Deadbolt. This is a highly rated keypad lock that is extremely secure (many users commented that even locksmiths struggle to pick it) and a great design. One thing you need to remember is making sure that batteries are regularly replaced (they last at least one year).
Best keypad rim lock: Yale Assure Lock Key
Rim locks are the oldest type of locking device. They consist of a surface mounted box containing a lock and a latch. They are fixed to the door rather than being set into the edge.
For smart keypad rim lock, we recommend Yale Keyless Connected from one of the best locks manufactures. It is extremely easy to install on your nightlatch and can easily connect to your smart home hub via Z-wave or Zigbee
Amazon Reviews:
Installs in minutes with just a screwdriver

Touchscreen keypad: backlit and capacitive touch so that numbers won't ever wear off

Lock and check lock status with Amazon Alexa when used with SmartThings

Voice Guided programming in English, French or Spanish
Pros
1 year battery life
Grade 2 Security rating
Z-wave and Zigbee supported
Cons
Reports of some faulty products, but replaced by Yale
Support can be better
Best keypad lever lock: Yale Real Living Keyed Touchscreen
Lever locks use a set of levers, instead of tumblers, to stop the locking bolt from opening. It can be opened by inserting a key into the lock so the levers are moved and the locking bolt can be operated. The number of levers may vary, but generally the greater the number of levers, more secure the lock will be.
Our top pick for a smart keypad lever lock is Yale Real Living Keyed Touchscreen Lever Lock. It looks amazing and can be connected to your smart home hub via Z-wave and Zigbee, has great battery life and smooth installation process.
Pros
1 year battery life
Grade 2 Security rating
Z-wave and Zigbee supported
Cons
Reports of some faulty products, but replaced by Yale
Support can be better
If you want a conventional keypad door lock, we recommend Schlage FE575 PLY 626 ELA Plymouth Keypad Entry with Auto-Lock and Elan Levers, Brushed Chrome is a traditional keypad entry door lock that we recommend. It has great reviews and one of the most popular level locks on Amazon.com due to reliability and practicality.
Best Non-Smart Lever Keypad Lock
More practical advice on smart home devices:
Last update on 2020-03-28 / Affiliate links / Images from Amazon Product Advertising API