Smart Home Hubs: Definitive Guide

WHAT WE LIKED:
Now with a wireless connection to the router

More automation

Compatible with Zigbee/Z-Wave
WHAT WE DID NOT LIKE:
Absence of Nest integration

Difficulty in upgrading
The strengths of SmartThings is community and mature platform that includes add-ons, integrations and
There are a few categories that may be of interest to you and most likely fall into these groups:
Light and switches. It connects with lights and switches from GE, Leviton, Cree, Philips Hue, Sylvania, LIFX, and control them by changing the brightness, turning them off/on at a specified time, etc.
Doorbells and cameras. It works with brands like Ring, Samsung, Skybell, Arlo, etc., and you can set up video notifications, mobile device alerts, and more.
Door locks. It supports door locks from Kwikset, Yale, Schlage, etc., which helps you lock and unlock your smart home automatically as you in and out of the home.
Thermostats. You can connect devices from different brands including Ecobee, Honeywell, etc.
Credit: https://diysmarthomeguide.com
Installation and Use
The first step in setting up your smart home is to place the hub in a central location. Make sure it's not on top of or immediately next to other wireless devices. Then, using the micro-USB power cable/power adapter, connect the SmartThings hub to a power source and power it up.
You'll also need to download the SmartThings mobile app, which can be found in either the Google Play Store or the Apple iOS App Store. Once downloaded, create your Samsung Account and set your location. Then from the dashboard, then tap add device. Select the hub and follow the on-screen guide to connect it. You'll use your phone's camera to scan the QR code on the back of the hub.
Now, you're ready to connect your devices. When setting up the SmartThing hub, make sure the device you're connecting is within 15 feet of the hub.
You can connect one of Yale/Kwikset/Schlage smart locks or Netgear Arlo cameras, or Ecobee thermostats, or Lutron switches, or Ring video doorbells, or Philips Hue smart lights, and a few other brands. You can find the list of all the supported devices here. And if you want, you can add Google Assistant or Amazon Alexa for voice control commands for your connected devices.
In terms of usability, the newest version of the SmartThings hub is quite easy and offers more simplicity than previous versions, especially during the setup.
Automation rules in Smart Things
Automation rules are all about creating scenarios to help make your life easier. They are customized settings that you have in place to respond to certain triggers. For example, you could have a scene titled "back from work" where the thermostat lower the temperature, the front door opens and the living room light turns on, all of which are executed simultaneously when you step into your home.
You can even teach your smart home some new tricks by setting up scenes, which are routines that control more than one device at a time. Select the devices tab and add your scene with a title – could be something like "Sleeping time". Now add the smart devices you want to control, for instance, lights, thermostat, locks, etc. You could then configure the light to turn off, the temperature to be adjusted and the door locked when you go to bed at night.
SmartThings Mobile App
Before you can use the hub with your smartphone, you need to download the app that's suitable for your phone's operating system. The iOS app is a bit different from that of the Android, in that it's simpler, lighter, and with fewer features.
Once you have the app, open it and search for your device, then add it. Some devices such as thermostat, TV, etc., might be auto-synced but the hub itself might not, so you may have to search for and manually add it to your mobile phone.
Comparisons
SmartThings vs Hubitat: The Hubitat hub is similar in terms of the functionality and features. However, it's more advanced than the SmartThings v3 and doesn't require an internet connection to operate it.
SmartThings v3 vs SmartThings v2: If you already have the version 2 of this hub, you may not want to upgrade as there isn't much difference between the two. Version 3 only comes with a few improvements, mainly connecting through wireless when setting up.
SmartThings v3 vs Home Assistant. The best thing about SmartThings v3 is that it became even better than v2 with the same great community and support. For the majority users, it is the best smart home. At the same time, if you ready to invest some time in learning new skills, keen to tinker and like to have complexity and flexibility, Home Assistant is the best option to go for.
SmartThings v3 vs HomeSeer: If you are a beginner, then the SmartThings is your choice but if you are experienced and want more sophistication, then the HomeSeer might offer more customization.
SmartThings v3 vs VeraPlus: The VeraPlus has radios for all major home automation standards, which is similar to what you get on the SmartThings v3. However, it doesn't support Bluetooth and Zigbee just yet, which somehow limits the number of non-Z-Wave devices you can use with it.
SmartThings v3 vs Domoticz: It should be noted that this is an open source software and the hardware doesn't come with it. However, you'll need your Z-Wave, Zigbee, etc., supported hardware such as motion sensors, locks, lights, etc. Also, it's less expensive and great for people who want that extra freedom.
2. Hubitat Elevation: The best smart hub for advanced users
Hubitat is a relatively new kid on the block. It tries to bridge the gap between the commercial mass market products like SmartThings and Wink and more advanced open-source solution like Home Assistant and OpenHAB.
Our summary of the device is that it offers good UI and interesting way of configuring and using your smart home eco-system. We also like the fact that it tries to have all the controls locally, without the reliance on the cloud. Saying that we still recommend SmartThings if you want a mature and simple solution to manage your smart devices. On the other spectrum of a hub, for more tech-savvy users we would recommend Home Assistant for a more innovative approach to development and pace of new functionality appearing. We also like the progress on the UI and number of integrations that if offers.
WHAT WE LIKED:
Local processing

Z-Wave and Zigbee compatible

Locally stored smart home logic

Excellent management of devices

Complex interactions among devices
WHAT WE DID NOT LIKE:
No remote access

Steep learning curve

Limited device support

Absence of a mobile app
Credit: https://hubitat.com/
What hardware does Hubitat Elevation support?
The Hubitat Elevation is compatible with Alexa, Google Assistant, Zigbee, Z-Wave, Lutron, LAN, and cloud-connected devices. This means you have a wide range of smart devices you can connect to your Hubitat hub, just like the other commercial hubs on the market.
In terms of natively integrating devices, it has limited device support compared to more mature hubs like SmartThings. For example, it does support the Amazon Echo, but not Google Home (at least not fully) and IFTTT but not Stringify.
One thing that's good about it, however, is that the range of supported devices is growing fast. Having said that, the Hubitat Elevation supports Z-Wave, Zigbee, Lutron, and even Philips Hue Native. So, if you are big on lighting, you have your base covered here. And when you add excellent support for things like locks, cameras, smoke detector, then these are enough for a decent home automation setup.
Installation and use
As with many other hubs, the first thing you want to do is register the hub, after which you'll be directed to the home screen. You'll see the App, Devices, and Settings menus on the left side and the Drivers Code, Logs, System Events, and App Code on the lower end.
Most of your configuration will be done on the Apps menu and it's where you'll pair your devices to the hub as well as group devices as well as setting up rules like turning on living room light when the front door is opened.
To connect your smart devices, you need to activate Apps like Nest integration, Rule Machine, Sonos integration, and others. It's also at this stage you can add either Google Home or Alexa. Only after you've integrated these services will you be able to add your devices, which shouldn't take more than a few minutes.
When it comes to working through the hub and configuring devices, the native app makes it easy. It's actually one of fun as you can do a lot of complicated things with it, aside from controlling your thermostats, sensors, locks, speakers, lights, and others. You can connect more than 100 unique smart devices and as you update it, you get additional support for even more devices.
Creating automation rules in Hubitat
The Hubitat allows you to create complex scenarios for controlling all your smart devices. This is one of the strong points for this hub and where it has an edge over others like the Samsung SmartThings. For example, you can create rules to trigger some devices as soon as some situations are met. You could set the light to dim at a certain period of the day or you could set the thermostat to adjust to a certain temperature as the weather becomes hot.
Hubitat does not have a mobile app (intestinally)
The Hubitat Elevation does not come with any mobile app. Instead, a web app is available for controlling your smart home devices. You'll need to create this from the Dashboard Manager, which is available to you after registering your device online. As of this writing, a mobile dedicated app is in the works and hopefully may come with the next version of the device.
How does Hubitat stack up compared to other hubs:
Hubitat Vs Samsung SmartThings: SmartThings is a mass-market product which has a bit more polished, but simpler and more limited functionality. You get the ecosystem and third party support which is similar to what the Hubitat hub is trying to offer but has a much higher number of integrated devices. The downside to the SmartThings hub is availability. Since the device is heavily reliant on the cloud service there should be great uptime, but there is enough downtime to make it not worth it. This interruption or lost time affects how the hub works and often affects the control of devices.
Hubitat vs Home Assistant: Although we are big fans of Home Assistant, we really liked the fact that Hubitat tries to bridge the gap to mass market solutions. It feels more flexible and manages well the complex automation rules that needed for a good smart home setup. Saying that we would still go for Home Assistant as it feels you would need the same amount of time to get really comfortable with both system, but Home Assistant pace of development, community, and integration makes it really shine compared to Hubitat.
Hubitat vs Vera: The Hubitat is similar to the Vera in that both are backed by excellent customer support. In terms of performance, however, the Hubitat is far better. If you are looking at in terms of performance, third-party support and stability, the Hubitat is the better option.
Hubitat vs HomeSeer: Both hubs are designed for advanced users. However, HomeSeer hubs are more expensive. So, Hubitat is a good option when comparing it with HomeSeer.
Hubitat vs OpenHAB: It is difficult to compare Hubitat with OpenHAB – even if both are open source, they are very different. OpenHAB is incredibly stable and very well thought through the system with interesting solutions on UI and device management. At the same time, it is outdated and does not have much development energy behind.
Hubitat vs Domoticz: Of course, this hub isn't as much adopted as the more commercial versions. This means there might not be dedicated support as much as you can get from Hubitat.
3. Home Assistant: The most powerful and the best for DIY
We are big fans of home Assistant. It recently had 5 years anniversary and had a great vision laid out for the future. You can read it here.  It tries to create a secure, local and convenient tool to manage your smart home eco-system and so far we were very impressed by the attempts.
There are many reasons why we think that Home Assistant is the best open source smart home hub are:
A fresh, modern and easily customizable web interface
Easy integration with over 1,300 smart devices
Hass.io which is a user-friendly version with one-click management of updates and backup
Easy add-on management (Pi-hole, MotionEye etc.)
Ability to easily configure and manage advanced configuration especially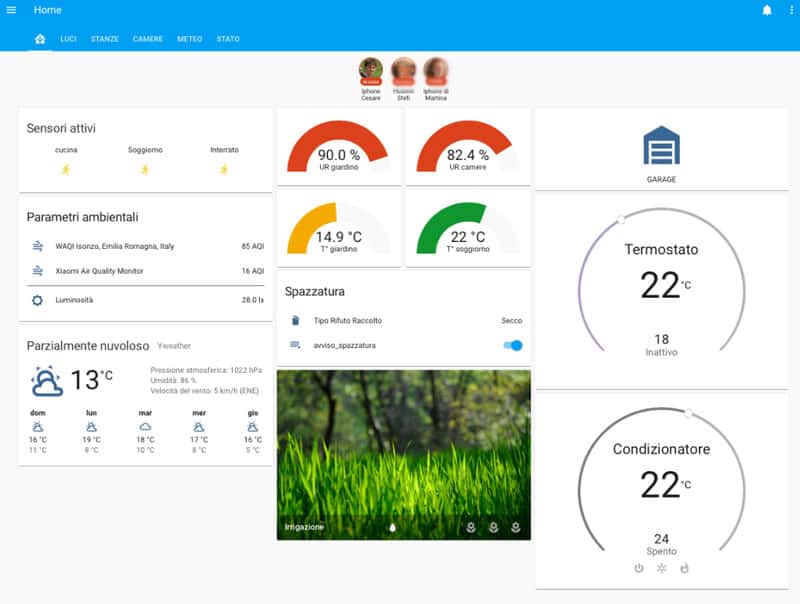 Home Assistant UI example: Credit; saggiamente.com
At the same time, we are aware of some issues. Its rapid development brings new features quickly, but also means occasional bugs and frustrating experience for users. You also will need to pay $5 for easy integration with Google Home / Alexa (there is a free manual way as well).
You can install Home Assistant in many ways. For the majority users Hass.io which is the self-contained flavour of Home Assistant (and basically a docker supervisor). It will take the management of updates, back up and also ability to add very good library of add-ons. You can install it on Raspberry Pi, any other NAS and Home Server (using Docker)
We have a very extensive comparison of Home Assistant Vs OpenHAB, which will give you more technical details. The article also gives examples of UI, automation rules and some concern we have over the product.
Please also consider looking at a couple of related articles:
4. Vera Plus: Good all-around option
WHAT WE LIKED:
Supports for Z-Wave devices

Enhanced functionality

Supports multiple protocols

Excellent technical support

No reliance on cloud services

Good value for money
WHAT WE DID NOT LIKE:
Poor UI

Bad documentation

Outdated plugins
What hardware Vera Plus supports?
Vera Plus has Wi-Fi, Bluetooth, ZigBee, and Z-Wave compatibility. Compared to others like the HomeSeer hub, there are no monthly fees involved to enjoy the hub to its fullest potential. It also supports devices from popular brands like Sonos, Samsung, Honeywell, Kwikset, Nest, Philips and much more, which makes it possible to mix and match brands for great smart home experience.
The Vera Plus supports up to 1500 Z-Wave compatible devices, which means you can integrate your cameras, lamps, sensors, locks and a lot more to transform your home into a truly automated and smart home. When everything works properly, you get a hands-free experience that smart hubs are designed to bring.
Credit: https://www.reichelt.com
Vera Plus Installation
The setup process isn't complicated; all you have to do is follow the instructions in the Quick Start Guide that comes with your package. First, you need to connect it to your router, using the supplied RJ45 Ethernet cable after which you power it up. Once it's on, you'll need to go to https://home.getvera.com to register your device with the manufacturer.
After your registration, you'll be redirected to the Dashboard where you'll be able to complete your setup. On the dashboard, you'll be able to add devices to your network, which is mostly done through a setup wizard.
Mobile App
Vera hubs come with perfectly working mobile apps and this is the case with the Vera Plus too. The app allows you to monitor and control your smart home devices from your palm, even when you're not at home.
Comparisons  
Vera Plus vs SmartThings. If you've used the Smart Things v2 hub before, you'll know that it depends entirely on cloud access and will be almost unusable without an internet connection. The VeraPlus on the other hand, like the Hubitat, doesn't need access to the cloud to work.
Vera Plus vs Hubitat. If you are looking for a great alternative to the VeraPlus, then consider the Hubitat hub. In terms of price, they are similar and offer more or less the same functionality.
Vera Plus vs Domoticz. The Domoticz is an open source software that offers good features if you don't want to use a commercial hub. While Vera Plus may be practical for beginners, the Domoticz requires technical shrewdness.
Vera Plus vs HomeSeer. HomeSeer offers three levels of commercial hubs, with price starting from the low hundreds to thousands of dollars. The level of technicality required for operating HomeSeer hub is also higher compared to that of the Vera Plus.
5. SmartThings v2: Still good for the majority of the users
WHAT WE LIKED:
Multiple wireless protocols

Easy to install

Clear user instructions

No monthly usage fee
WHAT WE DID NOT LIKE:
Depends on cloud access

App looks disorganized
Smartthings is the first commercial mass market product that is still very popular and has a great community behind.
What hardware SmartThings v2 supports?
Not only does it support Z-Wave, but it also supports Zigbee, Wi-Fi. And although there are some local commands that can be processed by the hardware CPU, the SmartThings hub v2 is actually cloud-reliant. So, you can't really do much when your internet connection is down.
It supports a wide spectrum of third-party products including Philips Hue, LIFX, Ecobee, Honeywell thermostat, Leviton lighting, Yale door locks, and a lot more. Adding third-party integrations is very easy too.
Credit: https://smarthomesolver.com/
Installation
It's fast and easy to set up. First, you need to download the application and register an account. After that, you'll need to follow the installation instructions, which is pretty straightforward. You need to install AA batteries for the battery backup, connect it to your router, and power it up. Unlike the SmartThings hub v3 or Wink hub, you can't connect to your router wirelessly, so you have to use a wired Ethernet connection.
After you are done with that, you can have it scan for compatible devices or just select from the provided list of devices on the unit. The SmartThings hub shouldn't have problems detecting your smart home devices, which gives it a slight edge over Hubitat and a few other hubs that require manually adding devices.
Mobile App
There are mobile apps for iOS, Windows, and Android devices, which is friendly and better compared to previous versions. You'll be able to get in-app help or online assistance along with video and a step by step guide to resolve problems.
The Smart Home Monitor page is also available on the app, so you can see the overview of your home at a glance. And this is where you'll have access to different menus to configure alerts and devices.
Comparison
SmartThings v2 vs SmartThings v3. In v2, you can only connect to your router using a wired Ethernet connection. The newest model, SmartThings v3, offers the option to connect to your router through Wi-Fi, giving you additional flexibility and one of the greatest advantages of the newest model over the v2.
SmartThings v2 vs Hubitat Elevation. If you don't plan to use your hub with a broadband connection, you should definitely check out the Hubitat Elevation which is the most suitable model for those who want their automation system operate locally most of the time.
SmartThings v2 vs Vera Plus. While Vera Plus offers lots of plugins you can install from the web interface, most of them are quite outdated, broken or incompatible. If you have a thick skin and don't mind finding the way through trial and error, then go for the Vera Plus. But if you don't want to fiddle with your hub to get the best out of it, then the SmartThings v2 is still better.
SmartThings v2 vs Domoticz. A good option for those who want open source software to manage their smart home setup. Moreover, Domoticz provides a platform for creating complex rules and IFTTT recipes.
SmartThings v2 vs Home Assistant. It is difficult to compare those two – they are from different worlds. For the majority of users who do not want to invest in learning how to manage a new device SmartThings would be a better choice. For all the rest who want to have complexity and flexibility, Home Assistant is the best smart home hub there is.
MORE: SmartThings vs Home Assistant
SmartThings v2 vs HomeSeer. The HomeTroller Zee S2 is a more advanced hub than the SmartThings v2. So deciding which one to go for is dependent on your experience as a user.
HomeSeer is another option for smart home hubs (controllers as HomeSeer calls them). The difference from other hubs is that the brand is the US focused, has the whole eco-system of devices and provides excellent customer support. On the other side, it is the most expensive option out of all other hubs we reviewed with the least expensive version comes at $99 plus over $100 for software.
WHAT WE LIKED:
Customizable with HSTouch Designer

Features IFTTT channel

Amazon Echo voice integration

Comes with iOS/Android app

Intuitive programming rules

Efficient Z-Wave integration

Supports multiple protocols
WHAT WE DID NOT LIKE:
Very expensive

No Zigbee support

Controller limited to 5 plugins

Individual purchase of automation products
There are currently 5 models on the market from HomeSeer and the cheapest of them is the HomeTroller Zee S2. Most of their devices are aimed at the high-end of the market segment in terms of the technicality involved as well as the price. Compared to other brands like SmartThings, Vera, Hubitat, the HomeTroller Zee S2 is not a consumer-focused product because it requires some know-how to set up.
There are other models from HomeSeer, other than the HomeTroller Zee S2, which is the smallest of them with some limitation in the number of automation technologies you can connect at a time. At the time of writing this guide, it's only five (for example, can be restricted to only Alexa, Nest, IFTTT, Zigbee, and Z-Wave devices).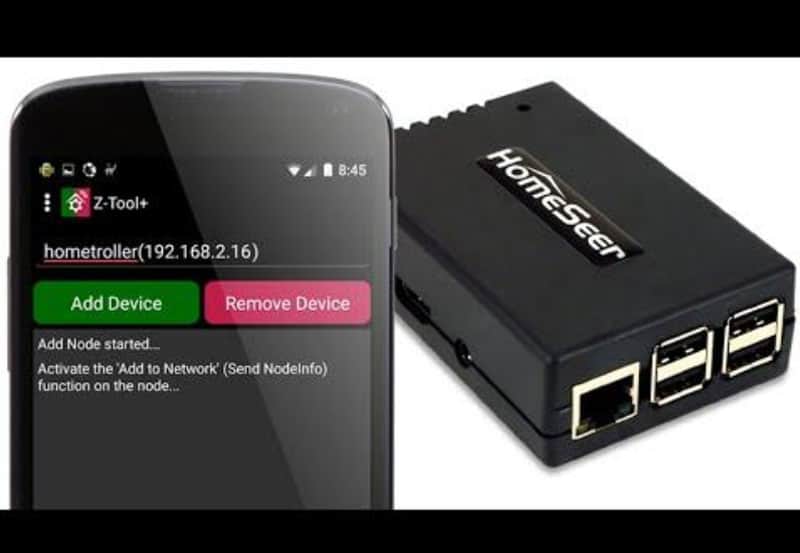 Credit: Z-wave.com
The HomeTroller hub supports Z-Wave, Zigbee, Insteon, X10, UPB, A10, which means you can integrate a wide number of home automation products.
Integration to devices
There are different models/version of the HomeSeer controllers with different levels of device and service compatibility. There are expensive models that support an unlimited number of devices as well as cheaper models that only support 5 drivers/plugins such as the HomeTroller Zee S2.
The drivers, while they are free to download, come in both premium and free versions.
Installation
Although those who want to use the device needs to have some sort of technical ability in setting up smart home devices, there is a thriving online community with constant webinars and tutorials that can help in the installation and use of the device. But still, you may want to look at the other models out there if you don't have the capacity to set up a system like this.
Mobile App
The HSTouch app is available for Android and iOS so you can control and manage your automation devices and program from your mobile device. It's possible that you may not be tech-savvy, in which case it may not be suitable for you as the HomeSeer software is more technical than that of others. So, if you are not familiar with what terms like firmware, drivers, plugins, etc., deals with, then this isn't for you.
Comparison
HomeSeer Vs Vera Plus. Compared to the HomeSeer hub, VeraPlus interface is quite buggy and slow. The code is poor and it isn't properly documented, which can greatly impact the user experience in a negative way.
HomeSeer vs SmartThings. The HomeSeer hub is a bit more advanced than the SmartThings v3 hub, which means it's not suitable for beginners. If you like the functions in the HomeSeer hub but don't have the technical expertise, you can look at the Samsung hub.
HomeSeer vs Vs Hubitat. If you are put off with the price of the HomeTroller Zee S2, the SmartThings is a close alternative that offers quite the same level of complexity in terms of creating automation rules.
HomeSeer vs Vs Home Assistant. The only two reasons why we would prefer HomeSeer devices over Home Assistant is the customer service and more user-friendliness. Otherwise Home Assistant all the way.
HomeSeer vs Vs Domoticz. As you probably already know, the Domoticz is open source and offers the same complexity you'll find in a HomeSeer hub plus the affordability.
7. Domoticz: Tested and free
WHAT WE LIKED:
It is free

Suitable for advanced users

Easy installation procedure

A broad range of supported devices

Highly customizable
WHAT WE DID NOT LIKE:
Not actively developed as other open source solutions

No dedicated support team

Open to more attack/hacking
Like the other commercial hubs, Domoticz supports Bluetooth, Infrared, Zigbee, Z-Wave and a few more protocols. This makes it easier to integrate a variety of smart home devices. Moreover, in terms of the number of devices you can integrate with this system, you don't have any restriction like the HomeSeer hubs and those hubs that don't support other protocols outside of Z-Wave like the Wink hub.
As stated before, Domoticz supports a host of protocols like Z-Wave, etc., as well as standards like Bluetooth, HomeKit, etc. It supports encryption too so that others don't listen on your devices. It also connects to services over the internet, with the advantage being that you can store and retrieve data from the cloud, such as the current weather for example.
Integration of devices
It can connect to Z-Wave devices such as the Z-Wave controller, network cameras like the D-Link, as well as others including HIKvision, Foscam, and Nexus. It also works with Bluetooth, Zigbee, Wi-Fi light, Logitech remote, Philips Hue and other lights too. There is an abundance of hardware you can add to the system and that is entirely dependent on your tastes. Moreover, it costs less than other hubs like SmartThings, HomeSeer, etc., since you only have to buy only the hardware that you need.
Installation
Aside from macOS and Windows, Domoticz supports Linux, FreeNAS, Raspberry Pi (Ubuntu), and Synology NAS. To install, you first need to download the current version that's compatible with your operating system.
Once installed, click open and you will be guided through the installation by a setup wizard. Just follow each prompt and you'll be able to install it without glitches. After installing it, you'll have access to a local Dashboard where you can view the status and monitor all of your smart devices. Also, this is where you'll be able to add and configure all your devices including switches, lights, sensors, weather, thermostat, smoke detector, and a lot more. You can also set up alerts for mobile notifications, which can be very handy when you're away from home.
Mobile App
There is a mobile app for Android and iOS to make controlling your smart devices easy. From the app's interface, you can manage your cameras, utilities, switches, lights, and a lot more using your iPhone or Android device. You can also carry out activities such as checking out historical data in graphs and logs as well as controlling all your devices within the app. The Android app is available from GitHub and Google Play Store with updates and features added regularly. If you are an iPhone user, you can get the app from the Apple Store with the same level of functionality.
Comparisons
Domitcz vs Vera. Vera is built with poor documentation to support it. While it allows you to write your own code in LUA programing language, the documentation to help you along the way is scanty.
Domitcz vs SmartThings. SmartThings is designed for beginners and average users while Domoticz is for IT professionals or those with technical ability. In terms of price, SmartThings is more expensive and the level of satisfaction of support from the manufacturer is ebbing in recent years.
Domitcz vs Hubitat. Just like Hubitat, Domoticz equally requires a learning curve. Both are not beginner-friendly, although they can be learned and mastered for anyone willing. In terms of functionality, the Hubitat hub is more advanced and comes with lots of features that draw more people towards it.
Domitcz vs HomeSeer. In terms of the technicality required in operating both systems, the HomeSeer hubs and Domoticz are quite similar. HomeSeer is more expensive in the price department and has a few different models at different price points.
8. Wink Hub 2: Expensive but great support
While some speculate that the dedicated smart home hub is largely dying in favour of devices like the Amazon Echo and Google Home, there's still a good use for dedicated hubs and their accompanying apps. One of the most loved smart home hubs is the wink hub, which is currently on its second generation. The wink hub is known for offering a tone of connectivity and is compatible with a range of standards including Wi-Fi and Bluetooth, Z-Wave, Zigbee, Lutron Clear Connect, etc.
Sadly, Wink was not available in shops for a while with many review sites and Reddit users withdrawing their support for the wink products.
Voice Assistants
1. Amazon Echo
Years after its birth, the device that inspired dozens of copycat smart speakers and thousands of replicas, the Amazon Echo 2nd generation is what's on most people's radar. This Amazon's new Echo is smaller, cheaper, and promises better sound than before. But with all the competition today and even more in the pipeline, the 2nd generation Echo needs to prove its worth the money.
2. Google Home
The Google Home voice-activated speaker is Google's way of competing with the Amazon Echo. And it's impossible to talk about Google Home without also talking about Amazon's Echo. They are very similar and both are voice-activated, connected smart speakers. You can add things to your to-do list or your shopping list and do a bunch of web searches, all with just your voice now. Google has further ambitions for the home that goes beyond what Amazon is currently doing, but let's start with the device itself.
3. Home Kit
Apple's HomeKit is another voice assistance that's a bit different from Nest and Hive and offers relatively more features than the Google Home or Amazon Echo for Apple lovers. Unlike the Home or Echo, you aren't buying any hardware or physical product, all of HomeKit platform is based on software on your iPhone. The software is your key to ruling over all your smart home devices.
Last update on 2022-05-22 / Affiliate links / Images from Amazon Product Advertising API