What is PoE (And 3 Best Power Over Ethernet Devices)
A few network standards as helpful as Power over Ethernet for both home users and businesses. But what is POE? PoE (Power over Ethernet) standard puts network connection and power supply in one cable. This means fewer cords and easier installation of your network devices. We tested the devices that you can use to inject electricity into Ethernet cable to give you the recommendation on the best PoE Injectors, best PoE switches and Best PoE hubs on the market.
This article aims to help you to understand what is PoE and choose the best PoE injector. For a well-informed decision, we will provide a brief theory on basics of PoE technology and five factors that you need to consider when choosing PoE power supply. We tested dozens of products and selected three that we can recommend. The
best PoE Injector is TL-PoE150S ($15)
for the outstanding value and simplicity.
NETGEAR GS305P ($50)
is our choice for the best PoE switch and not only a has a great price but also combines reliability and robustness. When using PoE only to power cameras, you should look into 
Amcrest NV2108E
($160). Based on our review it is the best PoE NVR around with good NVR functionality and quality power supply at a reasonable price.
You might be also interested:
About the Author
Alex Brice is a smart home expert and has been using, reviewing and testing home automation products for over 10 years. His articles were referenced by major smart home media like TechCrunch, Cnet, Home Assistant Blog. Alex is also an active contributor to smart home communities in Reddit, Quora, Automated Home and both OpenHAB and Home Assistant Forums.
PoE (Power over Ethernet) is a technology for ethernet wired networks (LANs) that allows the electrical supply to be carried by the same data cables opposed to using separate ones. This significantly simplifies the cabling (only need one cable) and installation processes (simple plug and play).
The illustration below shows what is PoE switch. The majority network devices require two things to function:
Network – connection through which the camera or other device sends and received information. You can use wifi to connect wirelessly or Ethernet cable for wired connection
Power – can be delivered to a camera through a wire and depending on what PoE switch you need 12 or 24 Volts current
PoE hubs work by injecting the electricity into Ethernet cables. This can be done by doing midspan (above) or at a switch point (below)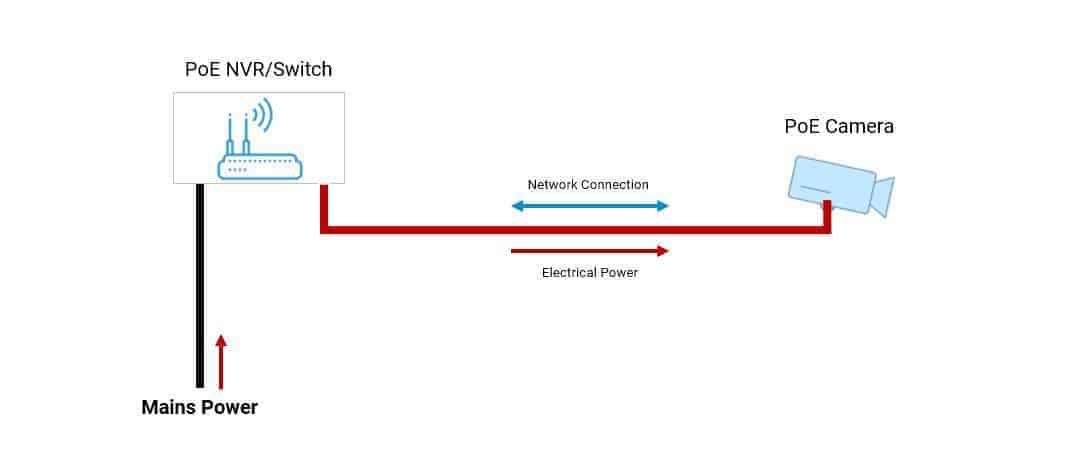 A number of devices can be powered through PoE including VoIP phones, IP cameras, and Wireless Access Points. Recent development in PoE technology also extends its use to LCD displays, Thin clients, LED lighting, Video conference equipment and even TVs and laptops.
The benefits of PoE are not only in the simplified cabling, fast deployment, and repositioning but also in the additional functionality like remote power control
There three main types of PoE power supplies you can use:
PoE injector is a poe hub that uses existing Ethernet cabling and injects power into it. The injector is used between a camera and a router
PoE switch is a network switch that can power 4 and more PoE devices. It is connected to your router to integrate PoE devices into your network
PoE-enabled NRV is a network recording device that would also have 4 or more ports to power the PoE cameras. NVRs would normally have simpler PoE functionality comparing to the above
What type of PoE power supply to choose?
For a single or two cameras, PoE injectors are the best option for PoE hubs. They would be cheaper compared to a PoE switch. An additional advantage of using injector is additional resilience in maintenance as in you will have downtime only for one camera case of a power outage
If PoE is only needed to power cameras and you need NVR for video storage, an NVR with PoE ports will be most practical and affordable solution.
For everything else, especially if you require to advance PoE functionality (see the factors below), PoE switch would work the best for you
5 Factors When Buying PoE hubs and PoE Power Injectors
Five simple factors below will help you understand what is PoE to choose the best PoE injector, PoE switch or PoE NVR for your needs
Number of cameras: PoE injectors can usually power up to two devices while PoE switches and PoE NVRs can power up to 32 devices. We recommend to plan for additional capacity and buy at least a couple of more ports in case you will decide to expand your setup. For than two cameras it becomes cost inefficient to use PoE injectors with PoE switch or PoE enabled NVR being a better choice.
PoE for other devices: A number other devices can be powered by PoE such as wireless access points and VoIP phones, but if you are only planning to use it for cameras PoE NVR might be a more suitable option for you. This is a more cost-efficient solution (as you will not need to buy both NVR and PoE switch) but will make the cameras dependent on NVR for both recording and power supply.
Power supply – PoE vs PoE+: There are two main PoE standards – PoE and PoE+. They are also called 802.3af and 802.3at respectively. The main difference is the maximum watts the device could provide with PoE+ power suppliers capable of twice more watts compared to conventional PoE. The majority of bullet and dome cameras consume as little as 3 or 4 watts (like our favourite bullet camera Amcrest HDSeries IPM-743E – $40). You will usually only require PoE+ with PTZ (pan-tilt-zoom) cameras. As an example, our recommended PTZ camera (Reolink RLC-423 – $249) could draw up to 20 Watt as it requires extra power to move the camera around. Note that Type 3 and Type 4 PoE standards are also being developed and will be capable of 60W and 90W output.
Power supply voltage (12V vs 24V): Security PoE cameras use 12 or 24 Volts and getting the power right avoids overloads or operating issues (signal loss or outages). For example, if a 12V camera is powered by a 24V power source the camera is likely to be burnt out. You should always check the specification of your power supply (injector, switch or NVR) to match the ones in your cameras. It might be a good idea to check if your power supply has the functionality to automatically adjust the voltage to the consumer (which becomes a standard nowadays)
Gigabit or not: Gigabit port became a marketing vehicle for some PoE hubs, but is it really important? Gigabit connection usually refers to the connection of your PoE hub to the router. The differentiating point is that Gigabit networks have much higher bandwidths comparing to 100MB switches. The former is capable of 8.192MBps bandwidth is at the very top, while Gigabit networks are capable of 125MBps. Having a Gigabit connection between your router to NRV or PoE switch is a nice functionality for future-proofing. NVRs for up to 4-8 cameras, on the other hand, unlikely ever to reach the 100MB network thresholds. As the example, if you ever decided to watch simultaneously the feed from 8 1080p cameras at 3 FPS you will require a bandwidth of 6.5 MBps. On the other hand, Gigabit uplink is almost a mandatory feature as you require significant bandwidth when connecting to your NVR through the switch for constant recording.
Reasons to buy
Fanless and works fast
Metal chassis (not plastic)
Works without long set-up process
Be mindful of
No real cons unless you are bothered by multiple blinky LED lights.
Vs competition
8 Port PoE – you should look into BV-Tech 8 port switch ($64) which is a very strong and reliable switch, but it only offers 10/100M ports.
Gigabit ports – the best option would be NETGEAR (GS108PP) ($124) although it is more expensive
If you are looking into PoE+ devices, we recommend the following options:
Reasons to buy
Great value for money – affordable NVR with good functionality
Connects well with other brands
Very high tech and high quality
Live 2-way audio works well
Good post-sales support
Be mindful of
Some descriptions in Amcrest website and manuals are inconsistent and confusing
The user manual is generic and not model specific
Installation and use 
To get started you need to install HDD (standard 3.5″ drive). We recommend WD Purple 4TB ($117) disk but any 3.5″ SATA drive should work. Next, connect your PoE camera into one of the ports.
Plug NVR into your router using ethernet and connect a monitor using RGB / HDMI and a mouse. Plug the NVR into the power plug and follow the relatively simple onscreen instructions to start watching/recording your security videos
Be mindful of the storage drives (HDDs) that you will need to install and calculate the capacity you would need. Very crude calculations put a recording rate to about 500 MB / Hour / Megapixel. So, the 4MP camera would require approximately 2 GB of data per hour on a constant recording mode.
Reolink RLN8-410 is a bit more expensive version and you will get considerably more polished mobile and android applications. It also has pre-installed 2TB hard drive.
Reasons to buy
Great quality desktop app
Good Android app
Can be used at any port you like (not only port 80)
Reliable motion detection
Be mindful of
Noisy Fan, which might be an issue for quite rooms. You can replace it with the alternative fan (like Noctua NF-A4x10 FLX) under 3 minutes
Browser Streaming only in IE
More practical advice on smart home devices:
Last update on 2022-05-22 / Affiliate links / Images from Amazon Product Advertising API