Best of open source smart home: Home Assistant vs OpenHAB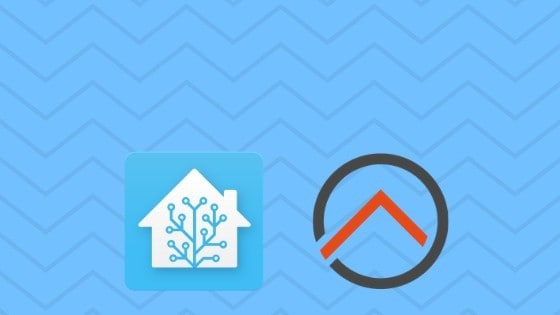 OpenHAB and Home Assistant are two best open source smart home hubs
We installed used both smart home platforms for a year in four different houses to test and find a winner offering greater flexibility, better user interface and overall performance.
Both platforms showed impressive offering, with OpenHAB being more mature and stable, while Home Assistant more innovative and flexible platform to control your smart devices
We have selected

Home Assistant

as the overall winner. This is due to a number of reasons, but more powerful automation engine, friendlier UI, more powerful integrations and stronger community being the main ones. Saying that, OpenHAB as a number of winning aspects and the victory was only by a thin margin.
This article will give more details on how we compared Home Assistant vs OpenHAB, background to their history, what we tested, automation rules, UI and much more.
Also have a look at our comparison of SmartThings vs Home Assistant, and in-depth review of 8 smart hubs (including Hubitat Vs Home Assistant)
(Update January 2020)

I continued running Home Assistant and spend over $2k on smart devices (sensors are expensive, but still no regrets) (
see the full list
). Overall I am running over 100 automation routines, and documented the majority of them in the 
Automation Bank 
for people to use. You might check the list of 
16 must-have automations 
to show you the power of Home Assistant.
Openhab vs Home Assistant: History and Architecture
OpenHAB has been created in 2010 by Kai Kreuzer. OpenHAB 2 (the current version) is developed in Java and mainly based on the Eclipse SmartHome framework. It uses Apache Karaf together with Eclipse Equinox to create an Open Services Gateway initiative (OSGi) runtime environment. Jetty is used as an HTTP server. openHAB is a modular software that can be extended through "Add-ons".
Add-ons give openHAB a wide array of capabilities, from User Interfaces to the ability to interact with a large and growing number of physical Things. Add-ons come from openHAB 1/openHAB 2 distribution, Eclipse SmartHome project. The development process is relatively quick with the latest version being updated in May 2018 with the update before on the December 2017.
OpenHAB runs on many popular platforms including Linux, Windows and Mac OSx. Many people find that the simplest way to experiment with openHAB is to get a Raspberry Pi and install openHABian. While openHABian offers a streamlined and simplified way to get up and running quickly, it is a complete openHAB home automation system capable of automating your entire home.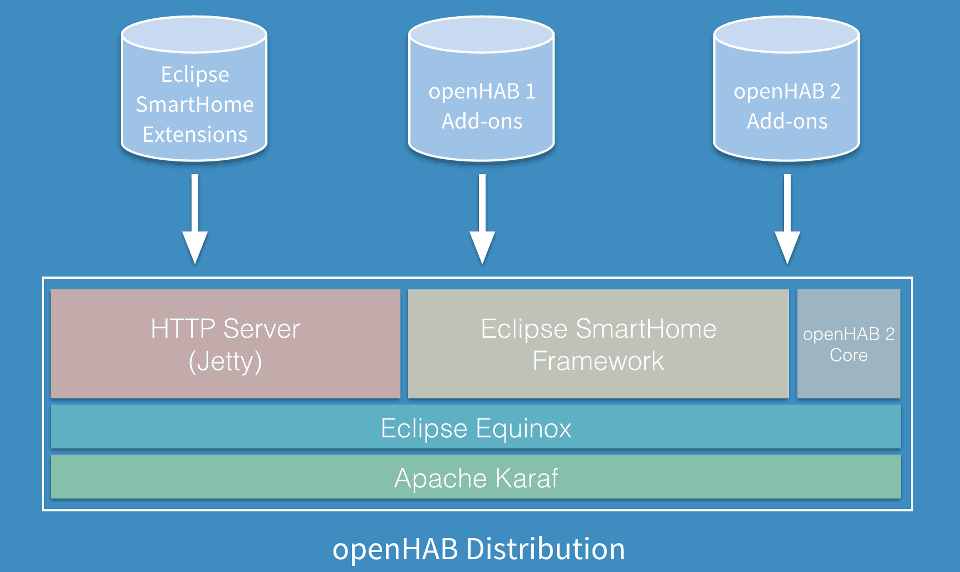 Home Assistant is developed using Python 3 for the backend and Polymer (Web components) for the frontend components. As the open-source product, it is licensed under Apache 2.0. From the development process perspective, the project recently adopted a two weekly release cycle with one extra week for beta testing which resulted in the improved quality, but there were still buggy releases recently.
Home Assistant (formely Hass.io) is one of two flavours of Home Assistant and is an operating system that will take care of installing and updating Home Assistant. It is easy to manage from the Home Assistant UI allowing creation/restoring snapshots of your configuration and can easily be extended using Hass.io add-ons including Google Assistant and Let's Encrypt.
From Architecture perspective, Home Assistant recognized a number of logical components that illustrated in the chart below.
Home Control is responsible for collecting information and controlling devices.
Home Automation triggers commands based on user configurations
Smart Home triggers commands based on the previous behaviour
Winner: Both
We liked the robustness and rigidity of the OpenHAB architecture and development that leads to known stable work and operation. Home Assistant require frequent updates, but offers rapid development and much more modern and sophisticated architecture.
Installing and Maintenance
Installing both platforms is easy. You need to download the base image for your hardware, write it on sd-card and plugging it in Raspberry Pi. Both can also be installed using Docker.
Initial configuration of OpenHAB is mainly done using the web interface. It is a well-thought process, although there are many steps to follow that can be intimidating for some users. We really struggled with Z-wave binding (even using our favourite Aeotec Z-wave Stick Gen5 or HUSBZB-1 Z-wave/Zigbee stick ). Home Assistant tries to do many things itself with very useful discovery option. There is also a push for web-UI controlled "Integration" feature that allows doing the initial configuration. Saying that at the moment we do not see how any reasonably complicated setup can be done without going into the configuration.yaml file. It is not hugely complicated but some learning curve nonetheless.
Updates are managed through web-interface for Home Assistant (formely Hass.io) and can be done by the click of the button. There might be breaking change in the releases so please do look in the documentation to check.
Things are more complicated for OpenHAB and done using a command line.
Add-ons are a strong part of both projects with a very strong community-driven development process existing in Home Assistant. You can use a number of repositories with add-ons to manage everything from MQTT to Lutron Certificates and NRV (MotionEye). OpenHAB also has a lot of add-ons (currently showing having of 310 add-ons). They all can be installed using Paper UI.
As for the servers to run, the majority of the users prefer to use Raspberry Pi (which is an energy-efficient powerful mini-computer) that is more than powerful to run both the platform system and add-ons. We also recommend looking into NAS solutions for Synology or even HP Microserver for more advanced uses.
Winner: Home Assistant
although we see how both products are attempting to be user-friendly in the initial setup, things are still to be improved compared to commercial smart hubs. Home Assistant being slightly ahead as it is possible not to use the command line at all when installing and setting up. Add-ons are handled equally well, but a little bit better by Home Assistant due to extensive documentation and one-click installation process. Initial configuration, however, is managed slightly better by OpenHAB as you will need to understand YAML to do any more-than-basic configuration with Home Assistant.
Starting with Home Assistant and OpenHAB
The article will now go into more specifics about the products, but we encourage you to try DIY Smart Home yourself. Below is the ultimate starter kit that works out of the box for both OpenHAB and Home Assistant. It also surprisingly cheap – all six items below will set you well under $300
Hardware to start using OpenHAB or Home Assistant
Low energy, but powerful and flexible mini-server
Native support for OpenHAB and Home Assistant
Many add-ons and expansion sticks
60 Watt Equivalent, dim brightness
Fine-tune light appearance from soft white (2700K) to daylight (6500K)
 Z-wave- based – it is a switch that easy to install and operate
Works with all the major hubs and looks great.
Wirelessly schedule and control any lamp or small appliance from anywhere, at any time with any mobile device
Easy to configure in Home Assistant or OpenHAB
6-in-1 Z-Wave Plus MultiSensor: motion, humidity, temperature, light lux, UV, vibration sensor.
2 year battery life
Last update on 2021-12-05 / Affiliate links / Images from Amazon Product Advertising API