Yes, The King of Smart Home Locks August Still Reigns (Bluetooth Door Lock Review)
Updated October 2018
---
We recently reviewed best z-wave door locks and liked how functional electronic door locks became and their practicality in day to day life. One thing that they all need a z-wave enabled smart hub to use smart features. This might not work for all. That is why we tested and reviewed available Bluetooth door locks as they offer more standalone smart door lock experience.
Our test showed that  August Smart Lock Pro + Connect ( $279.00 ) is the best Bluetooth deadbolt you can buy. It is a practical and functional device offering one of the best keyless door locks experiences at the moment. It can be installed in minutes basically replacing the internal part of the lock only. August continuously improves both the unlocking and locking features that keeps winning positive reviews from consumers. The only negative side we see is the value for money and the need for an additional wifi hub (August Connect) for some smart features. This will bring the price up by $100 but comparing with the other Bluetooth deadbolts (like Yale or Kwikset) it is within the price ranges in the segment.
About the Author
Alex Brice is a smart home expert and has been using, reviewing and testing home automation products for over 10 years. His articles were referenced by major smart home media like TechCrunch, Cnet, Home Assistant Blog. Alex is also an active contributor to smart home communities in Reddit, Quora, Automated Home and both OpenHAB and Home Assistant Forums.
Best Bluetooth door lock
Incredible device with Apple-like quality, constant upgrades and one of the best implementations of auto-unlock
Amazing build quality and service
Riche and well-designed smart features
One of the easiest locks to install
What is Special About Best Smart Locks August
August Pro is the third iteration of the lock and has one of the best designs/quality that we saw in locks recently. We expand more on the reasons why it is the best keyless door locks below, but overall in addition to overall quality it is a very secure lock, that installs almost at any door in under 30 minutes, has physical door sensor included and even has Z-wave capability. It is also a Bluetooth electronic door lock so it can connect with your phone only at close proximity. This greatly reduces security risks (hackers will not be able to connect to it through the internet) and also less complicated for not-so-technical family members. Z-wave door locks (like our top-pick z-wave keyless deadbolt Schlage Connect (Price not available ) ) are using similarly local protocol, but they can only connect to your smart hub and not your phone. There are two disadvantages we see. You will need to buy a wifi bridge (meaning another hub and same risks as other locks), If you want to have remote controls, notifications to your phone and the ability to share the codes you. Also, we see that Bluetooth deadbolts are using more energy and you will need to change batteries roughly every 6 months.
Bluetooth door lock with PIN
This deadbolt replacement smart Bluetooth door lock is easy to install and use. It comes with different colours and offers a more traditional look. Comparing to August it is more difficult to install and August app offers sleeker and more modern experience. Schlage Sense does not have a z-wave connection. At the same time, if you only need Bluetooth and do not need remote access (although $70 hub is still an option) Schlage is a very reliable and high-quality product.
What makes August Pro the Best Bluetooth door lock?
Great overall quality: the lock feels like a premium product. This is based on the physical build, documentation, customer service and also mobile application quality. Another often commented part of customer experience is the fact that August keeps constantly adding certain smart door lock functionalities and improving existing ones. As the example, we saw a number of updates that significantly improved already well-working auto-lock functionality.
Security is in the heart of the lock which is helped by the fact that it is using Bluetooth. The local nature of the protocol is amplified by the focus on the reliability and redundancy by August developers. It is also great to see that you can still use your key as a backup feature.
Easy to install: Many users commenting not only on the fact that the setup takes only 10-15 minutes but also on the quality of the install kit that comes with the lock. Providing that your door does not need adjustments and aligned well, we expect you to have one of the smoothest smart lock experiences in your life. This is a very refreshing and well thought through process from August.
DoorSense is basically a sensor that comes with this keyless deadbolt that you install on your door frame. It acts as a secondary auto-lock feature and can be set up to make sure that the lock closes once the door is shut but it was in "unlocked" status for a defined number of minutes. That might be very useful as compared to other locks, auto-lock is based on the actual position of the door (this is more reliable compared to a lock based sensor)
Z-wave compatibility: yes, you read it right. This lock in addition to the Bluetooth functionality can also connect to your favourite Z-wave enabled smart home hub (like our favourite SmartThings or Home Assistant – see the full review). This means that you actually do not need August to connect wifi bridge to enable the smart features saving you some money and avoiding additional hardware or an app
Three Things can be improved about this Bluetooth door lock
Price: we cannot find many negative sides and overall very happy with the design and implementation of August Bluetooth smart deadbolt. One thing that can be improved is value for money. There is no doubt that August Pro comes with a ton of unique features. For some of those you would need to pay extra using other locks (like Kwikset) or they might not be available at all (like auto-unlock). Saying that, if you compare Smart Locks August Pro price to the price of Schlage Connect (our favourite Z-wave door lock) the price difference is almost $60 more for former. That is a lot of money and even if you get Bluetooth connection and DoorSense sensor you still do not have PIN touchscreen (extra $50) or an alarm functionality. Fundamentally it is a question of your specific needs and some functionality might be crucial for you. It is good to see some choices available and somewhat better value for money products do exist in the market.
Signal strength to the hub: as we mentioned above the installation is very simple in almost all the aspects from physically attaching it to the door to working with the app. One area that can be better is the proximity to the Connect hub. The reasons for that is the use of Bluetooth to connect the hub to the lock and Bluetooth does not have great range. Be aware of this and try to have a hub literally next to the door to avoid any signal drops.
Auto-lock distance: auto-lock is a great feature and can transform the way you use the lock which improves the security. However, at the moment the auto-lock will trigger only when you will be 200 yards away from your house. This might be ok if you live in the big house in suburbs, but in the residential city areas, 200 yards is too much. You can be leaving the flat to walk your dog in the park and returning after 30 minutes with the lock still unlocked. Ideally, the distance should be customisable but the feature is still not there.
Smart Alerts are customisable alerts that can be configured to notify you of the door that has been left open, a particular user that opened or closed the door or when auto-lock/auto-unlock has been triggered. This seemingly small feature is useful to minimise distraction while making sure that you are aware of critical events.
Auto-lock is getting better over time with August has been actively improving the way the logic works. The main functionality is to lock the door when you are leaving a certain area near your house. This feature has to be as reliable as possible as you might leave your home vulnerable to burglary if it fails. To the credit of August, the functionality significantly improves lately with near 100% reliability achieved for many users.
Auto-unlock will open your lock when you are approaching the door lock. To improve the accuracy August now asks how you travel home (by car, public transport, bike and so on) and also specify your home wifi network. This ensures that it will only open the doors at the right moment and there is no need to find the keys in the pocket anymore.
Virtual keys are the keys that you can issue to your guests or to anybody else to have access to the property. It is very easy to share, disable and also assign the working schedule. The feature really improves the way you handle the access control and was a significant help in the case of our family.
It was commented by many users that this lock is one of the easiest one to install. That is due to a number of reasons. Firstly the design of the lock replaces the inside part of your deadbolt and hence you do not need to replace the actual lock. Secondly, August did a really great job in providing with the installation kits so even not experienced DIYers will be ok. And lastly, the Smart Locks August app has one of the most intuitive and easy to follow interactive installation guides. That is one of the reasons why this adds to the experience of one of the best keyless door locks in the market.
The overall process takes about 10 mins. One thing to remember is to pay attention to the keyed insert. You need to have the insert so that a little nub is up when the lock is open. If that is not the case for you, try to turn the insert around and try again.
As with any other lock, make sure that your deadbolt is aligned and has a smooth operation. This is the only way to ensure that August lock will work reliably and as advertised. The other thing that needs to be correct is having the lock and doors strike plates line up. You might need to move your strike plate to address this issue so August Lock can work properly. Moving a strike plate usually requires a chisel. If you struggle with above we highly recommend hiring a professional locksmith.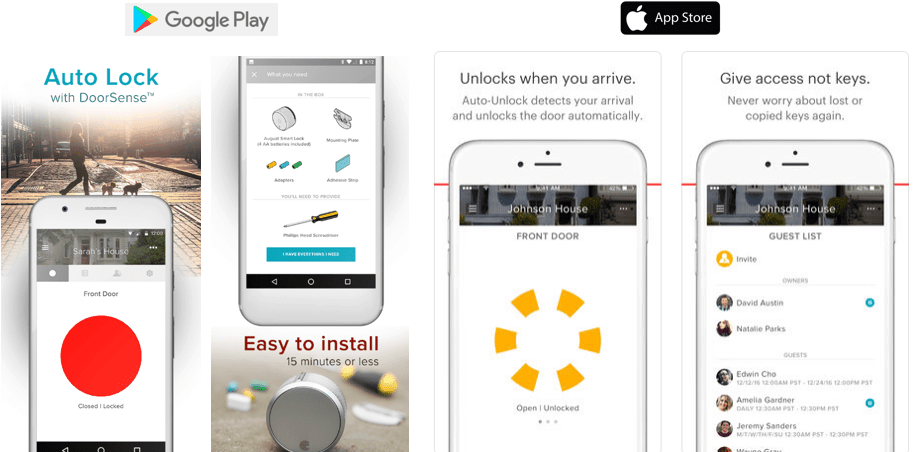 The app is very tidy and clean which makes it easy to use and navigate. As we mentioned above August is doing well in maintaining its quality and continue to improve the functionality. Settings are easy to find, understand and amend.
Both Android and Apple versions work similarly well and pleasant to use. You can install widgets on your home screen so you can easily lock and unlock the door.
Alexa and Z-wave integration to Smart Bluetooth lock
Integration to z-wave works simple as with many similar devices. The process will be device specific and you will need to follow the instruction of your z-wave stick or a hub. Once complete, you will have a lock in your system and be able to control and get notifications.
Alexa integration is also pretty straightforward. August has two Alexa skills and makes sense to turn both of them on. The black logo skill allows you to say "Alexa, lock the front door ". The red logo skill allows you to unlock the door saying, "Alexa, ask August to unlock the front door". You will be asked for a PIN (which you specify when turning the skill on). This makes the lock secure so nobody unauthorized can open the door.
User feedback for Smart Locks August
Everyone in my house has been set up with the Smart Locks August app and can remotely open or lock our front door with the connecting bridge. We've setup auto-unlock as we arrive in our neighbourhood and it's drastically changed how we go in and out of our house. Being able to leave house keys behind is a simple yet huge blessing when you just need to step out real quick to grab something from the store or run a quick errand.
On top of that, iPhone users can use Siri to control the lock status when Android users can check the door status or remotely lock it. We've also set up the auto-lock function with a 3-minute timer. If anyone opens and closes the door, it'll lock automatically in 3 minutes.
I spent a lot of time researching smart door locks but I kept coming back to the August lock. But, there was a problem. Smart Locks August was only supporting Z-Wave in it's Pro lock with Connect and that was only sold through dealers. Not long ago they started offering this combination to the public so I jumped at it based mostly on the professional reviews.
I was looking for some specific lock requirements. It had to be z-wave compatible so I could use it with my SmartThings hub. It had to have Amazon Alexa support. It had to allow me to control the lock when I wasn't home. I had to be able to give someone a temporary "key". It had to automatically lock and unlock the door. Oh, and it had to be somewhat attractive. Not too much to ask is it?
It worked great for a week, then I came home and it wouldn't unlock!!! My wife couldn't unlock it manually from the inside, she was able to turn the knob but the deadbolt wouldn't retract. I was finally able to use the key and get in. I removed the August lock from the door and my lock mechanism worked perfectly. I went to the August support page and you will be lucky to find anything relevant to your issue, it's not exactly the most comprehensive document ever created.
The Next step was to call August support and I was left on hold with the most repetitive annoying background music clip that seems to be designed for one reason "to get you to hang up or go absolute mad waiting for customer support"
Note -When this lock did work the Auto Unlock feature was hit or miss.
More practical advice on smart home devices:
Last update on 2022-05-21 / Affiliate links / Images from Amazon Product Advertising API