What is Z-wave siren and the best smart sirens you can buy
Z-wave sirens like any sirens are the important components a comprehensive smart security system. Their purpose is to alarm intruders, yourself and neighbours of any unauthorised entry. There are several options on the market and this article will help you to select the best Z-wave siren for your needs.
There are several main factors that you need to consider when buying a Z wave siren and we tested the main options available in the market against those. Overall we recommend
Aeotec indoor Zwave plus siren
 as a solid mains operated siren with a backup battery. For a lower price and a battery operated option, our pick is
Indoor Z wave siren by Vision.
About the Author
Alex Brice is a smart home expert and has been using, reviewing and testing home automation products for over 10 years. His articles were referenced by major smart home media like TechCrunch, Cnet, Home Assistant Blog. Alex is also an active contributor to smart home communities in Reddit, Quora, Automated Home and both OpenHAB and Home Assistant Forums.
Z-wave siren is a relatively simple device and it usually consists of a single box with light strobe. Its main purpose is to be as loud as possible and draw attention to the trigger event.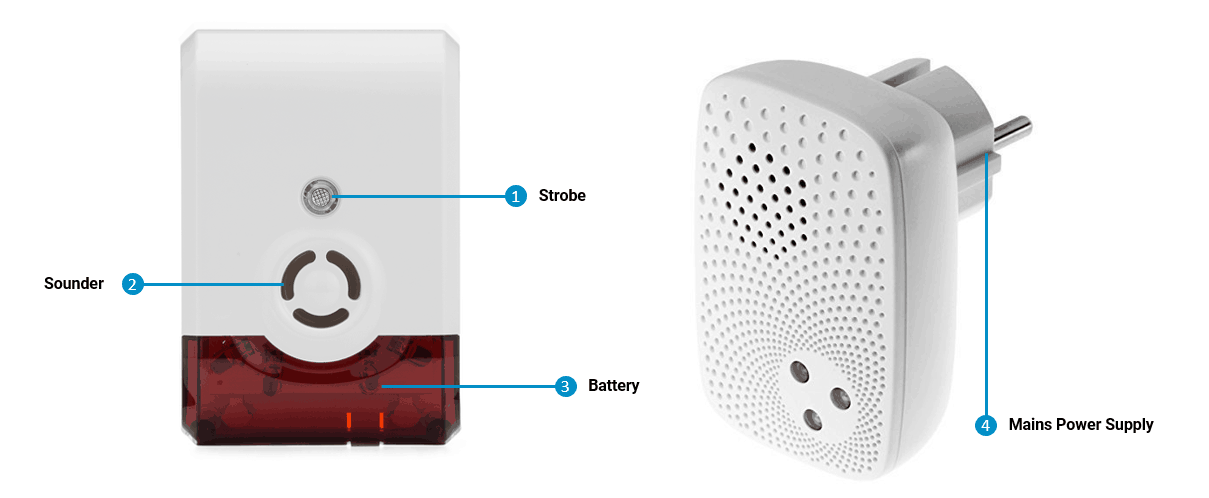 As for any Z-wave device, you will need a z-wave hub for it to work. There are a number of options to choose from, and you might want to look at our review of the best smart home hubs. Two of our preferred options (Home Assistant and SmartThings will work with any of the options below.
Depending on the specific device you can trigger the alarm, set up the loudness /alarm tone and regulate the brightness of the alarm light.
Another thing to remember is that if you decided to opt for a battery-operated siren, as with the majority of other battery Z-wave products it will not act as the repeater.
Do not forget that for a comprehensive security system you need to have sensors to trigger the alarm. It is s important to make those devices will work together and also cover all the possible entry points. See our overview of the smart best sensors. Our recommended zwave motion sensor is Gen 6 6-in-1 Multisensor by Aeontec ($58) and RF motion sensor by Sonoff  ($12)
Main Factors When Buying the best Z wave siren
The criteria below are the main important feature to consider when selecting the Zwave siren:
Loudness – a typical doorbell is around 85 dB with the hearing damage starts at 110 dB. The typical indoor siren is between 105 and 110 dB. For outdoor installations make sure you check with your local regulations. Some US states impose stricter rules on noise control and you can get fined.
Power supply and backup battery – Z-wave sirens can be mains and battery operated. Both options have their cons and pros. While a battery-operated device is more flexible in where to install the siren, it costs more costly in to run. The opposite is true for mains operated power siren. It also has an added security risk and some of those can be disabled switching off the power supply. That is why we recommend a hybrid option, where the device uses mains as the primary power source but has a battery to continue working in case of any power cuts.
Strobe – acts as the secondary alarm mechanism, drawing the attention of neighbours as well as any walk-byers
Indoor /outdoor and size – depending on the location consider the size and water protection features. As mentioned above, make sure that the loudness of the siren is not breaching local regulations. Availability of the mains power supply will also be a factor.
Reliability – This is probably the main feature where the siren should not go off at random times as well as go off when it is supposed to.
Configurability – some devices allow configuring the tone of the alarm, its loudness and also the brightness of the strobe. Although this adds some flexibility to the device, we do not think this as the important feature.
Self-protection mode – is a built-in feature that triggers the alarm when the device is being tampered with. This ensures that intruders will not simply disable the alarm. At the same time, it might not be a critical functionality if the siren properly installed and surrounded by motion sensor the chances of an intruder coming close to alarm are small.
Z-wave vs Zwave Plus – Z-Wave Plus extends Z-wave standard's capabilities, including increased range, extended battery life, Over The Air upgrading (OTA), additional RF channels and more. It a nice to have feature but nothing more especially if the device is not meant to be too far from the hub or your hub does not support Z-wave Plus (like Wink hub)
Powerfully siren at 105dB with 210 lumen strobe
Tamper and power out protection
In-built, self-recharging, 430 mAh backup battery
Z-Wave Plus certified
Reasons to buy
One of the loudest sirens (105dB)
Powerful strobe
Mains operated with backup battery
Be mindful of
Higher price (although justified in our opinion)
Reports of some faulty devices
Aeotec is one of our favourite smart home producers (its Gen 5 multisensor is an example of a great smart device). The Z-wave siren is another high-quality product and wins our best Z-wave siren pick and there are a couple of reasons for that.
As we mention at the beginning of the article we are big fans of mains operated sirens with battery backup (self-recharging, 430 mAh) and this device delivers it. That combination means that you can just install the device anywhere in the property and forget about – no need to worry about the changing the battery. At the same time even if the mains will be cut the backup battery will ensure that your siren still works for a couple of days. Do not forget to have a backup battery for your smart home hub as well.
In addition, we liked the fact that it is small (about the size of the deck of card). This and good looks of the device makes possible to install it almost at any place, even if it is open to the public. Also, it is nice to be able to customize not only the tone (out of five tones) but also the sound levels (out of three levels). Lastly, we quite liked the fact that it has the anti-temper protection.
Installing and using it is simple. First of all, you need just to pair it with your z-wave controller. In case of our favourite z-wave controller pick (Aeontec Zwave stick), you need to press the button at the device. That is it! As soon as it is paired, you will have a new device in your system and can send actions.
Comparing to the competition you can definitely get a cheaper device. Vision Zwave indoor Siren is our recommendation for battery operated siren that similar characteristics, but the sounder is not as loud. Everspring Z-wave Siren is even cheaper and can be connected to an optional power supply, but also not as loud and has a dimmer strobe.
The bottom line is that the Aeotec Z-wave siren is a very capable main operated device with back up battery. The price is on the upper range, but the difference of around $10 is justified in our opinion for the functionality you get.
Reasons to buy
Good price
Bright Strobe
Anti-tampering protection
Be mindful of
Battery operated not battery backup
Not very loud
Z-wave Siren by Vision
is a product that offers good functionality at a very reasonable price. It is a relatively bulky (4 1/2″ x 3″ x 1 1/2″) in size and works from 4 AAA batteries. The strobe has 360 Lumen meaning it will be visible even at the daylight. There are some more nuanced configuration features available where you can have a strobe working for the first 30 seconds (to allow the authorised person to disarm security system) and blast the siren only if that has not been done. You can also set the siren working for 30 sec, 60 sec, 120 sec or "run forever".
There were a couple of things we did not like. The loudness of the alarm is declared at 105 dB at 1 meter, but in our tests, we were not able to get those readings. The siren is still very loud and will get the attention, but comparing to Aeotec Z wave indoor siren if felt quitter.
This is also a battery-operated device, which makes it possible to install in many more places. At the same time, you will need to keep an eye for the battery levels and remember that as the Z-wave battery operated device it will not act as the repeater.
The installation process also took a bit of time for SmartThings hub (was relatively easy for Home Assistant). Once paired you will see the device in your system and assign any actions desired or configure it.
Overall, we consider it Z wave siren by Vision as the viable choice for a battery-operated device. If you are happy with the drawbacks (loudness and more complicated installation) there is no need to pay more money. At the same time, Aeotec Z-wave Siren is just $10 more expensive device, but it is mains operated and has a louder sounder.
Reasons to buy
Very good price Easy to operate
Can be connected to optional power supply
Be mindful of
Not Z-wave Plus
Not very loud
Dimer strobe
Just a couple of years back it was very difficult to imagine that any Z-wave device would
cost less than 30$
before. Things change now and Everspring (a company from Taiwan) not only able to maintain the low prices but also offer a very good functionality.
Everspring Z wave siren is a battery-operated device (power by C-size batteries) with 100 dB siren sounder and a strobe. It is a relatively bulky device but easy to mount anywhere. We liked that it can also use the external power supply, but it does not have a battery backup. The device has also an anti-tamper protection which is especially welcome for battery operated devices.
It was very easy to install and pair it with the Z-wave controller. Home Assistant was able to get access to all the readings from the device instantly and the same is true for SmartThings. You can adjust the siren volume adjustment (two option) which is useful if used in central locations.
There are a couple of things you might consider before buying the device. First of all, although Everspring has a global presence its post-sale support might not match the same from Aeotec. It is also not a Zwave plus device meaning that it has a smaller operating range. The siren, although loud, is definitely not as loud as in Aeotec or Vision zwave sirens. The same is true for a strobe – it will not be very visible in the daylight.
We consider the Everspring a good option for a given price, however, there are many compromises made for that price and especially the loudness of the sounder. That is why we recommend to invest a little bit more money into the Aeotec Z wave siren or Vision Z-wave siren and have peace of mind in the reliability and loudness of your siren.
More practical advice on smart home devices: